A huge THANK YOU goes out to Toni from
Make it Perfect
for organising the Auctions. I'm going to join in.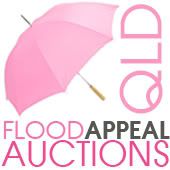 The Auctions run from now until 24th January and there are many blogs undertaking this wonderful effort.
To those bloggers in any of the affected QLD towns, my thoughts are with you. I have friends and family in Bundaberg, Emerald and Brisbane, so am keeping an eye on things regulalry.
I hope you are all OK....T